After a day of work at the Engineering Research Center at the University of Arkansas, Kyle Quinn had a pleasant Friday night in Bentonville with his wife and a colleague. They explored an art exhibition at the Crystal Bridges Museum of American Art and dined at an upscale restaurant.
Then on Saturday, he discovered that social media sleuths had incorrectly identified him as a participant in a white nationalist rally some 1,100 miles away in Charlottesville, Va. Overnight, thousands of strangers across the country had been working together to share photographs of the men bearing Tiki torches on the University of Virginia campus. They wanted to name and shame them to their employers, friends and neighbors. In a few cases, they succeeded.
But Mr. Quinn's experience showed the risks.
A man at the rally had been photographed wearing an "Arkansas Engineering" shirt, and the amateur investigators found a photo of Mr. Quinn that looked somewhat similar. They were both bearded and had similar builds.
By internet frenzy standards, that was proof enough.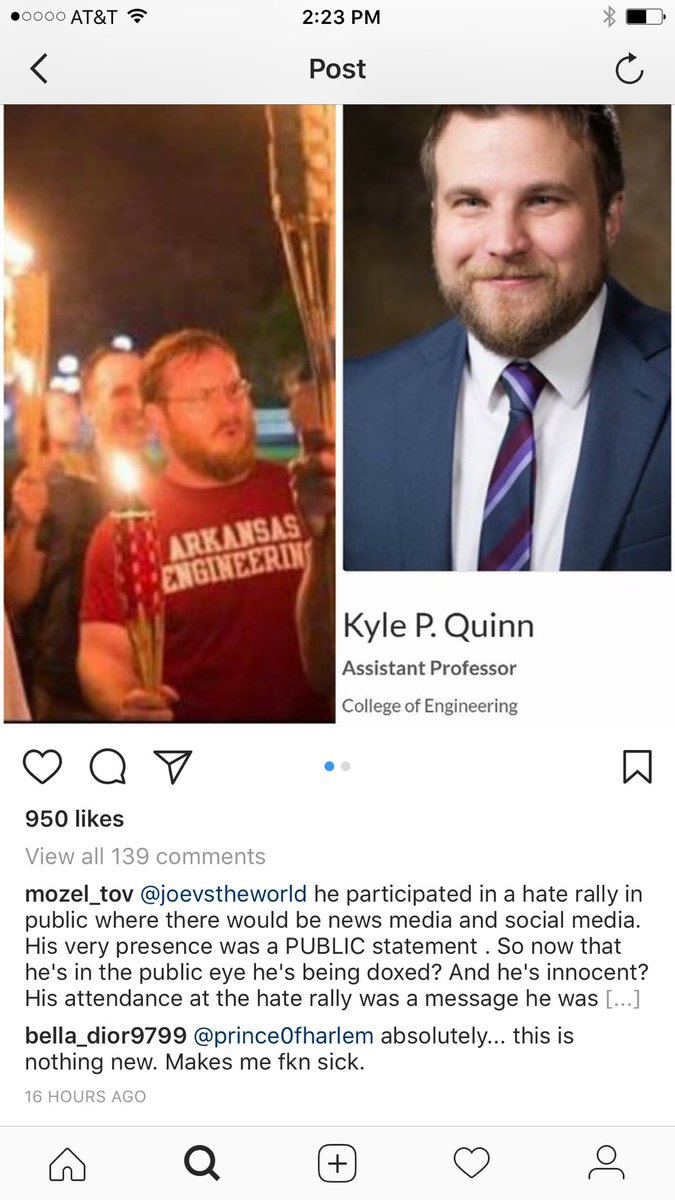 Photo
Credit: 

Jennifer Mortensen
Fearing for their safety, he and his wife stayed with a colleague this weekend.
"You have celebrities and hundreds of people doing no research online, not checking facts," he said. "I've dedicated my life to helping all people, trying to improve health care and train the next generation of scientists, and this is potentially throwing a wrench in that."
For someone whose only sin was a passing resemblance to someone else — the actual man in the Charlottesville photo has not been conclusively identified — Mr. Quinn bore the direct consequences of the reckless spread of misinformation in breaking news, a common ritual in modern news events.
There is considerable controversy around the practice of "doxxing," a term for publicly identifying — often with sensitive personal details like addresses, phone numbers and employer information — people who were otherwise anonymous or semi-anonymous. Many social media platforms, including Twitter, consider it a violation of their rules.
But it is also a standard practice in journalism to track down and identify individuals caught up in a public news event. While professional news organizations have had their fair share of misidentifications, the ability of anyone to launch a name to national prominence with a few mistaken retweets has heightened the likelihood of destructive mistakes.
In the case of Charlottesville, social media users hoped identifying rally participants would lead to real-world consequences for racism. One Twitter account, @YesYoureRacist, was retweeted tens of thousands of times by people trying to help name the men in several photos.
The internet vigilantes claimed some successes over the weekend. One rally participant, Cole White, resigned from his job at a hot dog restaurant in Berkeley, Calif., according to Berkeleyside.
"The actions of those in Charlottesville are not supported by Top Dog," the restaurant said in a sign that was posted on Sunday.
Another man, Peter Tefft, was repudiated by his entire family in a letter to The Forum, a North Dakota newspaper. Signed by the man's father, the letter said he would no longer be welcome at family gatherings.
And Peter Cvjetanovic, 20, of Reno, Nev., was forced to defend himself after a picture of him shouting at the rally spread widely. He confirmed it was him but told KTVN-TV that "I'm not the angry racist they see in that photo."
While the @YesYoureRacist account was one of the most visible leaders in the name-and-shame effort, it also made a misstep. The account apologized for using an old photo of Joey Salads, a YouTube star, from a different event in which Mr. Salads said he was wearing an armband with a swastika as an "experiment." He was not at the rally. And the person behind @YesYoureRacist — who could not be reached for comment — was the target of an apparent doxxing by another Twitter user, who posted what appeared to be phone numbers and other personal information. Twitter deleted that tweet and suspended the account.
As news organizations have learned — sometimes through high-profile mistakes — misidentifying a person accused of wrongdoing can have bad consequences, from lawsuits to a loss of credibility.
Journalists at Storyful, a news agency that verifies social media content, aim to find eight to 10 pieces of corroborating information before confirming an identity, said Ben Decker, a research coordinator. Identification must be approved by several editors, he said. (The New York Times is a Storyful client, and Mr. Decker works directly with The Times.)
Simply looking at a photo can often lead to mistakes. There's a lot of potential for human error related to lighting, positioning, how much of the face is seen, and how many similar faces are in the world, Mr. Decker said.
Having a name isn't enough, either. For example, there are several men with military backgrounds in the United States named James Alex Fields, the name of the man charged in Saturday's fatal attack with a car on protesters in Charlottesville, Mr. Decker said. An attempt at confirming an identity in that case would have required a date of birth and address, at least.
As for Mr. Quinn, the University of Arkansas professor, he fell victim to a resemblance to one of the rally participants, but the possibility that he was there wouldn't have held up with more careful checking, Mr. Decker said. Such mistakes routinely happen during amateur sleuthing, he said.
"There's ostensibly a very quick jump into the first detail that emerges," he said.
People who then try to correct the record often feel drowned out by the false information.
Mark Popejoy, an art director in Bentonville, Ark., attempted to correct dozens of Twitter accounts that had inaccurately pegged Mr. Quinn as the Charlottesville rally participant. He would point out that the University of Arkansas had confirmed that Mr. Quinn was not involved, and ask that the Twitter users delete their erroneous tweets.
While some appreciated the new information, others adamantly refused to change their minds, he said in an interview on Monday. He said he didn't know Mr. Quinn but sympathized with his position.
"I think it's dangerous just to go out accusing people without any kind of confirmation of who they are," he said. "It can ruin people's lives."